Farewell Mack... Thanks for 16 memorable seasons.
Horns come up short against Oregon in the AlamoBowl, 30-7.

Welcome to LonghornTailgaters.com!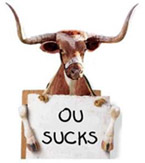 Longhorn Tailgaters is a semi-private tailgate made up of Longhorn-Loving, Orange-Blooded, sooner-Hatin' Texas Fans and their friends and family. Every year it seems that our tailgate gets bigger and 2013 has been no exception. Stop in and see us for every home game.... come early, have a beer, play cornhole and watch some football. If you'd like to join, please contact us

2013 :: 10 Years!
Longhorn Tailgaters would once again like to thank all of our sponsors for 2013. We had a great year and your support has allowed us to grow the Tailgate and improve the GameDay experience for all of our friends, family and guests.

2013 Sponsors

Coors Light
UV Vodka
Ace Relocation
PFS Realty
A&G Electric
Cypress Creek Reserve
Novati Technologies
El Gallo Energy (drink)
Kluck Construction (Kevin Kluck)
Charles White Catering
Apartment Experts (Julie Torres)
Off Key Karaoke & DJ
Sips Hand Painted Glasses (Emily)
Ruben Morales Professional Photography
Thank you for all your support!

2013 Schedule







Game 1: vs. New Mexico St
56-7 (W)

Game 2: @ BYU
20-41 (L)

Game 3: vs. Ole Miss
23-44 (L)

Game 4: vs. K-State
31-21 (W)

Game 5: @ Iowa State
31-30 (W)

Game 6: vs. oklahoma
36-20 (W)




Game 7: @ TCU
30-7 (W)

Game 8: vs. Kansas
35-13 (W)

Game 9: @ West Virginia
47-40 OT (W)

Game 10: vs. Oklahoma St
13-38 (L)

Game 11: vs. Texas Tech
41-16 (W)

Game 12: @ Baylor
10-30 (L)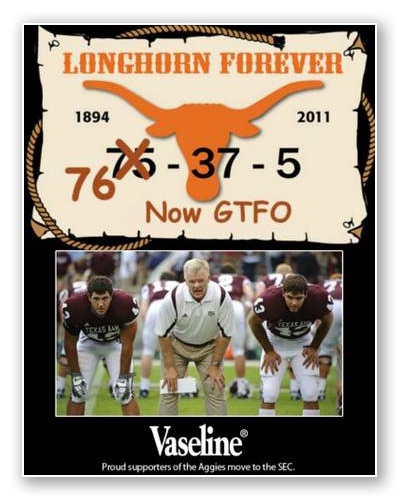 Countdown to Kick-off
---
Longhorn Tailgaters is a NOT-FOR-PROFIT organization/community. Your donations on GameDay help fund the direct cost of the tailgate with the remainder donated to local Austin charities. Past recipients include Pancreatic Cancer Action Network, Lance Armstrong Foundation, Capital Area Food Bank and ASPCA.