Welcome to LonghornTailgaters.com!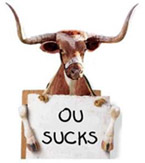 Longhorn Tailgaters is an open-to-the-public tailgate made up of Longhorn-Loving, Orange-Blooded, sooner-Hatin' Texas Fans and their friends and family. Every year it seems that our tailgate gets bigger and 2014 will be no exception. Stop in and see us for every home game.... come early, have a beer, play cornhole and watch some football. If you'd like to join, please contact us

NEW! We are also now offering setups for private parties... so now you can book your own private area for your bachelor party or bachelorette party!

Wanted to say THANK YOU again for the generous contribution of Snarf's Sandwiches to our West Virginia game Tailgate. Everyone loved the food. Don't forget to visit their website at www.eatsnarfs.com for your catering needs!

2014 Sponsors

Coors Light
Deep Eddy Vodka
PFS Realty
Custom Corntoss
Snarf's Sandwiches
Apartment Experts
Low T Medical Clinic
Cypress Creek Reserve
Rudy's BBQ
Kluck Construction (Kevin Kluck)
Thank you for all your support!

2014 Schedule







Game 1: vs. North Texas
We won

Game 2: BYU
We lost big-time

Game 3: vs. UCLA (@ JerryWorld)
We should have won?

Game 4: vs. Kansas
We won, but not impressive

Game 5: vs. Baylor
We lost big-time

Game 6: Oklahoma (in Big D)
We lost, but ou still sux!




Game 7: Iowa State
Won a thriller

Game 8: @ K-State
Ouch. The big goose egg

Game 9: @ Texas Tech
Started slow, but won big

Game 10: vs. West Virginia
A great win for Strong!

Game 11: @ Okie State
Win = Bowl Eligible!

Game 12: vs. TCU
I'll be 'thankful' if we win









Countdown to Kick-off
---
Your donations on GameDay help fund the direct cost of the tailgate with the remainder used to improve the Gameday experience. We have also donated to local charities. Past recipients include Pancreatic Cancer Action Network, Lance Armstrong Foundation, Capital Area Food Bank and ASPCA.